The Very Hungry Caterpillar by Andover Fabrics



While speaking of butterflies and literature, I would recommend the novel, Flight Behavior by Barbara Kingsolver. This book extends the enjoyment and knowledge of butterflies through an intriguing story.
Many of us may associate butterflies with spring and summer when we are aware of their presence and beauty as they flutter from blossom to blossom. However, fall is an important time as adults of the eastern population of monarch butterflies migrate to Mexico, flying up to 3,000 miles. In the western U.S., monarchs migrate to groves along the coast of California.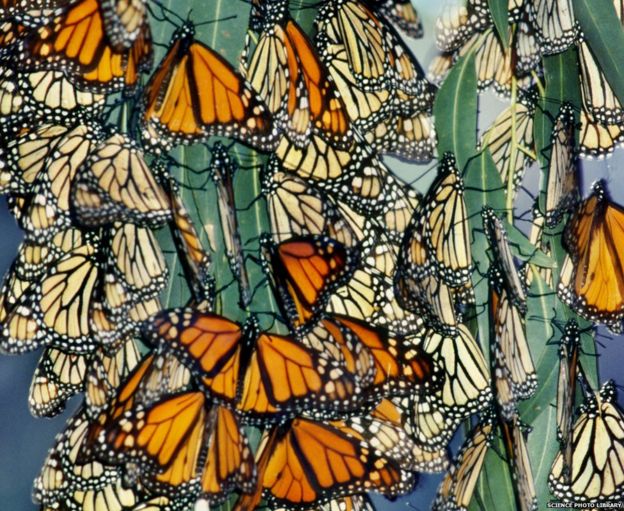 Monarch butterflies overwintering in California, Source: Science Photo Library
According to BBC news, in
2004 an estimated 550 million monarch butterflies arrived at their usual wintering ground. But 10 years later, in 2014, there were just 50 million - a decline of about 90%. Some scientists believe that these sensitive butterflies are victims of climate change, and these same scientists are watching the plight of the butterflies as an indicator of a warming earth. I know local environmentalists who are encouraging the planting of milkweed, the monarch larvae's food source, in backyards and community gardens. This is one strategy thought to help increase the population of these beautiful creatures.
Purple Milkweed
I have found plenty of inspiration for quilts and other fabric projects featuring butterflies. On a recent trip to the North Carolina Arboretum, my husband and I visited a small butterfly house. We watched a few varieties of butterflies, including monarchs, as they flew through the enclosure, stopping momentarily to sip nectar from the abundance of butterfly friendly plants.
The Arboretum's quilt garden is one of my favorite places. Colorful plants are arranged in such a way as to mimic quilt blocks. There are steps nearby which allow visitors to look down upon the quilt blocks to see the entire quilt garden display. Much to my delight on this particular visit, the quilt garden was full of butterfly quilt blocks. It truly must be the year of the butterfly!
Are you a fan of butterflies? What do butterflies symbolize for you? Please leave a comment and share your thoughts.
I have received no compensation for the mention of books, fabric, or companies in this blog post. All opinions are my own.
Linked with: Over the Moon, Freemotion by the River